DESIGN | CONSULTING | PROJECT MANAGEMENT | ABOUT | PORTFOLIO 1 &middot 2 | CONTACT


We manage landscape contractors...

‣ Architect
‣ Designer
‣ General Contractor
‣ Landscape Construction
‣ Plumbing & Electrical
‣ Arborist
‣ Stone Mason
‣ Pool & Jacuzzi
‣ Irrigation
‣ Outdoor Lighting
‣ Plant Nursery
‣ Seasonal Maintenance

Contact us for a
free estimate
(617) 835-1040
Landscape Project Management
Over 30 years of practical Landscape Construction experience, often working with sub contractors, allow expert guidance to be given on the construction of any landscape related project. This is useful as a follow up tool once a landscape design is prepared and ready for installation. Our project management experience and skills help avoid many problems associated with homeowner and business owners misunderstandings when dealing with contractors and sub-contractors on their own.

In addition to the coordination of different trades our project management services include: working with the designer or architect, irrigation contractor, landscape maintenance contractor, arborists, nursery business and installation contractor. Project Management services results in lower costs, improved control of the operation, increased productivity, improved quality and happier client.

We manage your landscape contractors... saving you time, money and headaches!
A professionally designed and managed landscape project is one of the best investments you can make in your home or business. Just ask anybody who has recently completed one. There's no easier or more cost-effective way to beautify your property, increase its value and curb appeal, and save yourself lots of time and hassle.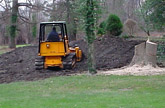 PLANT THE PLANET
Carney Tree & Landscape, Inc. Duxbury MA 02331
O. (781) 585-5508 | C. (617) 835-1040
Landscape Design, Consulting and Project Management.